Rock and Roll Quotes Music Fans will Enjoy
These rock and roll quotes show us how rock and roll music is a uniquely American creation with an often misunderstood past.
Looking around and seeing The Rock and Roll Hall of Fame, the Rock and Roll marathon, and Rock and Roll Sushi it's easy to see how rock and roll are everywhere in American culture.
You may also enjoy our article on:
According to Statista, Rock and Roll is one of the most popular music genres worldwide, with over 60 million fans in the United States alone.
The energetic rhythms, iconic artists, and fantastic rock and roll quotes continue to attract generations of fans who enjoy its unique sound and cultural impact.
Historian Daniel Boorstin said, "The greatest enemy of knowledge is not ignorance, it is the illusion of knowledge."
Rock and roll are often associated with white American culture, and many white artists have pioneered the genre.
However, rock and roll is music created by African Americans, and like many uniquely African American creations, it was taken and re-imaged into mainstream culture.
Pioneers such as Bo Diddley, Chuck Berry, Little Richard, and sister Rosetta Tharpe pioneered the transformation from blues to rock.
Check out these rock and roll quotes to learn about its evolution into a global phenomenon.
Don't forget to also check out these music quotes on how it heals our soul.
If you enjoy this article, check out our most popular quote article, a list of short inspirational quotes for daily motivation.
If you want more motivational quotes, check out our motivational quotes category page.
Rock & Roll quotes about its origins
Grand View Research reports that the global rock music market is projected to grow at a compound annual growth rate of 7.6% from 2020 to 2027.
This growth is likely to be driven by factors such as increasing music festivals and concerts, growing online music streaming services, and the rising popularity of classic rock and roll quotes.
1. "If you tried to give rock and roll another name, you might call it 'Chuck Berry'." – John Lennon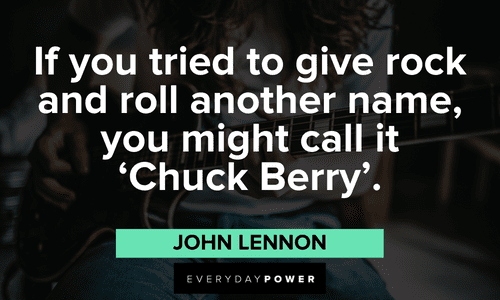 You will also enjoy our article on dance quotes.
2. "Elvis may be the King of rock and roll, but I am the Queen." – Little Richard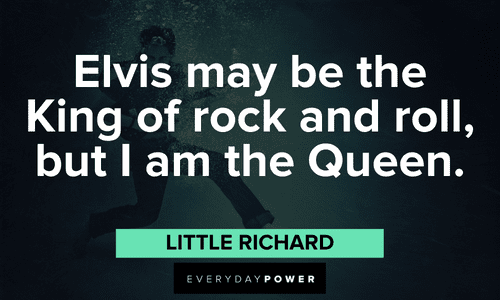 You will also enjoy our article on Led Zeppelin quotes.
3. "Rock and roll is not just music, it is a way of life, it has its own spirit." – Anupam Roy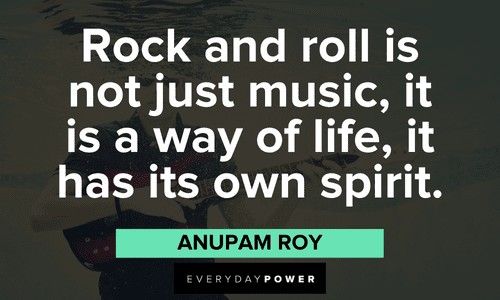 You will also enjoy our article on Jimi Hendrix quotes.
4. "Jazz, rock and roll, movies and comics are the culture of America." – Bill Griffith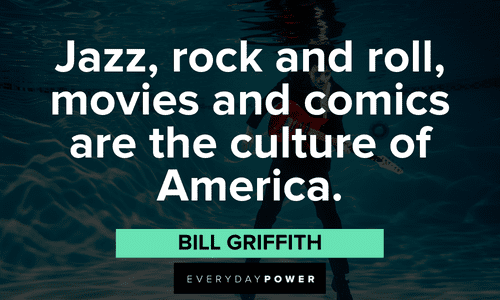 You will also enjoy our article on Slash quotes.
5. "I am the innovator. I am the originator. I am the emancipator. I am the architect of rock 'n' roll!" – Little Richard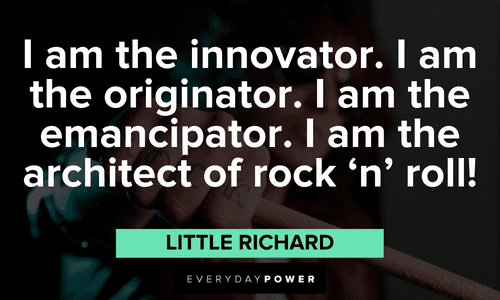 You will also enjoy our article on grunge quotes.
6. "I always felt rock and roll was very, very wholesome music." – Aretha Franklin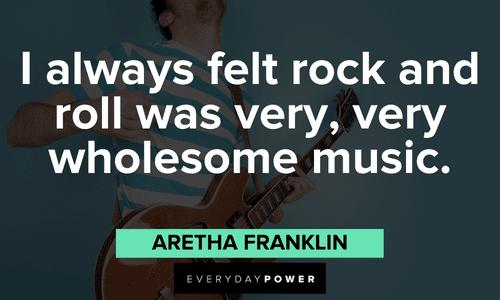 You will also enjoy our article on Grateful Dead quotes.
7. "I was always drawn to gospel music and the roots of African-American music. It's the foundation of rock and roll." – Hozier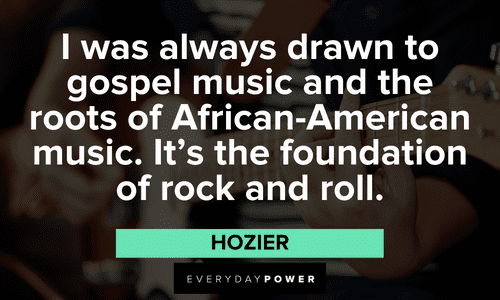 You will also enjoy our article on Eagles quotes.
8. "Most of modern rock and roll is a product of guilt."- Captain Beefheart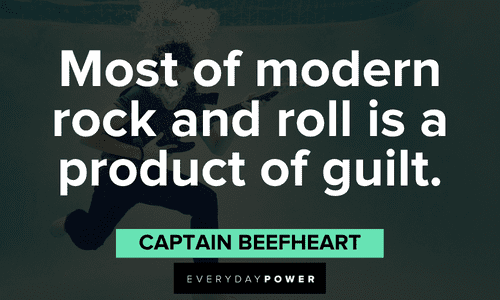 You will also enjoy our article on Kurt Cobain quotes.
9. "I grew up on the precursors to rock and roll, rhythm and blues."- Bobbie Ann Mason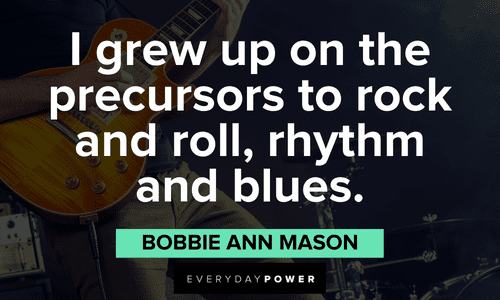 You might also like these Nirvana quotes about the 90s alternative rock legends.
Quotes That Sum Up Rock & Roll
The Guardian notes that rock and roll have significantly impacted popular culture, with its influence felt in fashion, film, and other entertainment areas.
For example, rock and roll quotes have inspired countless fashion trends, from leather jackets to ripped jeans, and their rebellious spirit has been depicted in numerous films and TV shows.
10. "Rock and roll is – and should be – a kid's place."- Ben Folds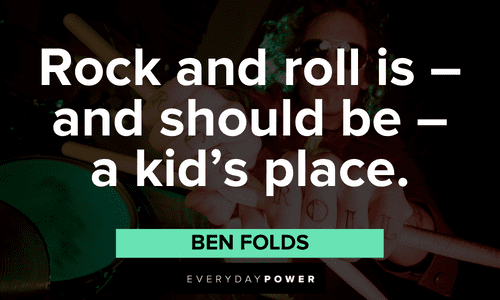 You will also enjoy our article on jazz quotes.
11. "I didn't think you could just become a rock and roll singer."- Tom Petty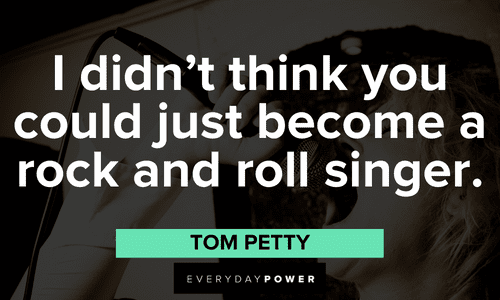 You will also enjoy our article on prince quotes.
12. "Rock and roll: music for the neck downwards."- Keith Richards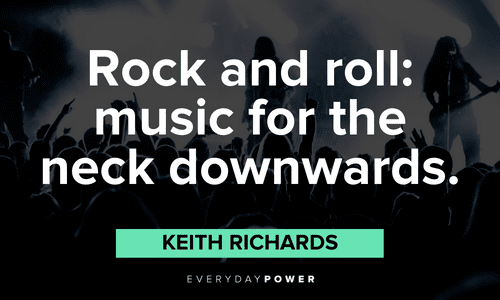 You will also enjoy our article on Stevie Nicks quotes.
13. "Rock and roll is the hamburger that ate the world."- Peter York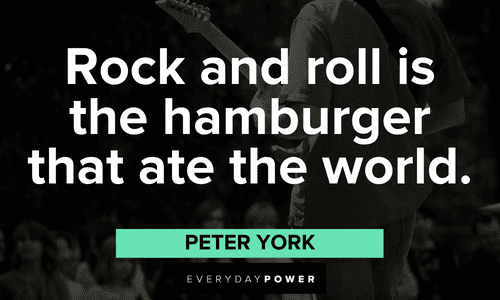 You will also enjoy our article on Rocky quotes.
14. "Prince presented us at the Rock and Roll Hall of Fame."- Bernie Worrell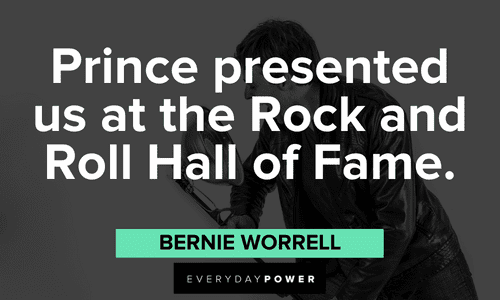 You will also enjoy our article on punk quotes.
15. "If it's illegal to rock and roll, throw my ass in jail!"- Kurt Cobain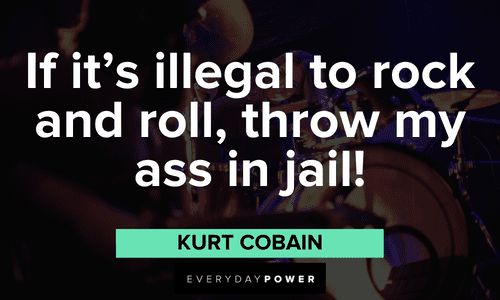 16. "To me, rock and roll is like an ethos or a state of mind."- Kevin Parker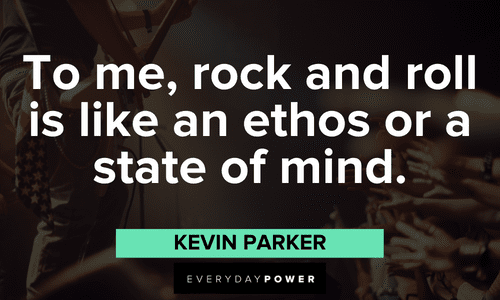 17. "If you want to release your aggression, get up and dance. That's what rock and roll is all about."- Chuck Berry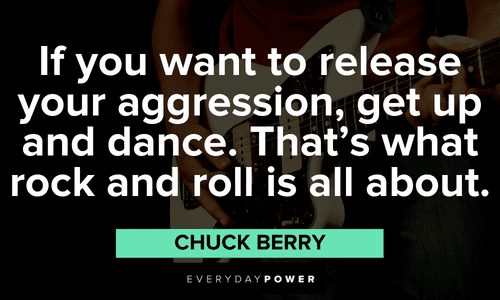 18. "The great thing about rock and roll is that someone like me can be a star." – Elton John
19. "There will never be another Freddie Mercury, one of the greatest rock and roll singers." – Dave Clark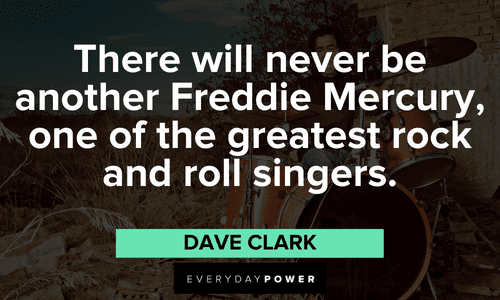 20. "It was always my belief that rock and roll belonged in the hands of the people, not rock stars." – Patti Smith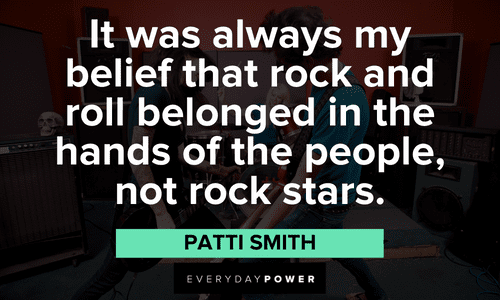 If you enjoy this article, check out our collection of KISS quotes from the rock and rock legends.
Rock & Roll Quotes To Make You Smile
21. "You can't have rock and roll without drugs, you can't have rock and roll without sex."– Rick James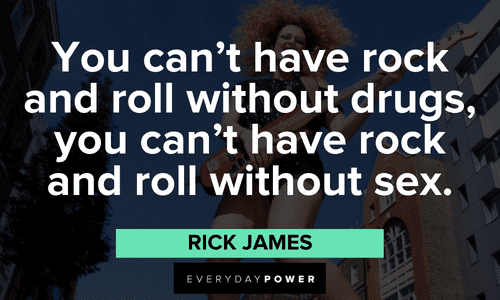 22. "I can't tell you what I had for breakfast, but I can sing every single word of rock and roll."- Patty Duke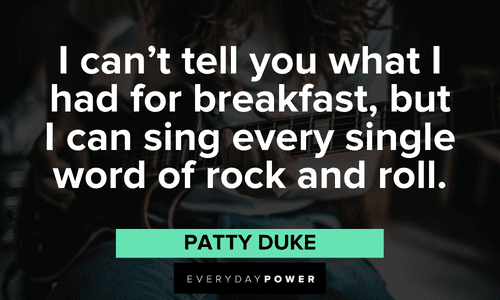 23. "I was 12 in '55 when rock and roll hit. It just completely transformed me." – Robert Quine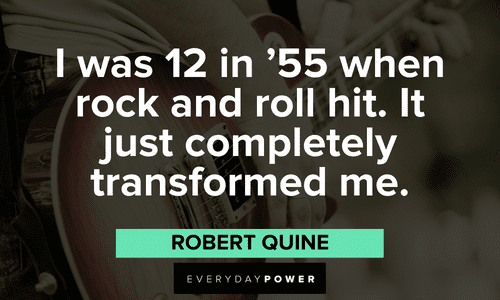 24. "Rock and roll might be summed up as monotony tinged with hysteria."- Vance Packard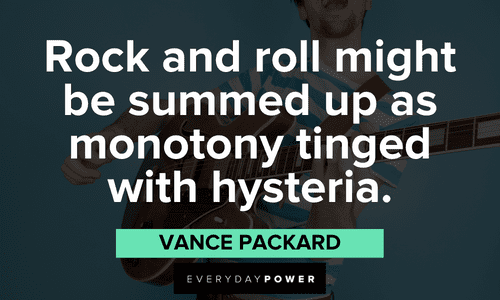 25. "Rock and roll is a contact sport. I enjoy playing the tunes that really get the people going."-Richie Sambora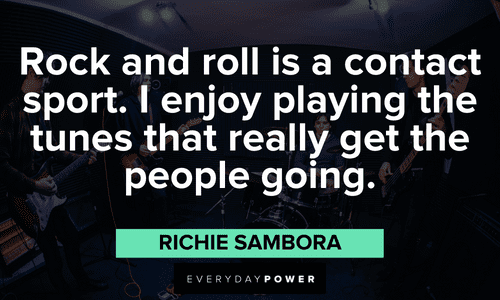 26. "Well, all rock and roll is based in artifice." – Billy Corgan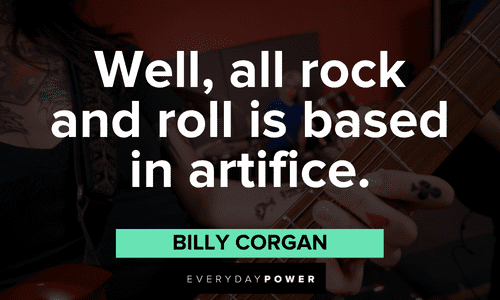 27. "Rock and Roll has no beginning and no end for it is the very pulse of life itself."- Larry Williams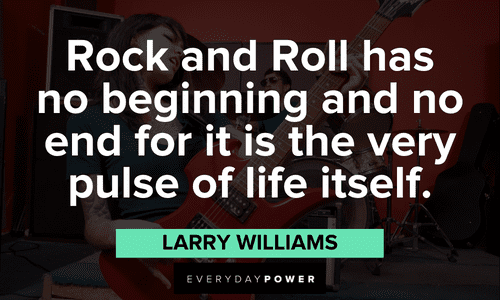 28. "I loved being a rock and roll star, but it wasn't what I wanted in life."- Patti Smith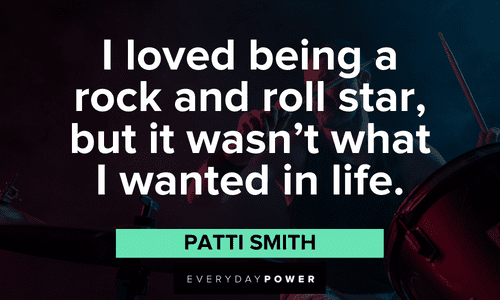 29. "Energy is so important. If you don't have it, don't bother with rock and roll." – Yoko Ono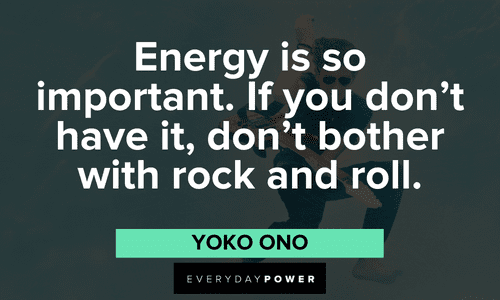 30. "Rock and roll stars have it much better than writers when they're on a tour." – Neil Gaiman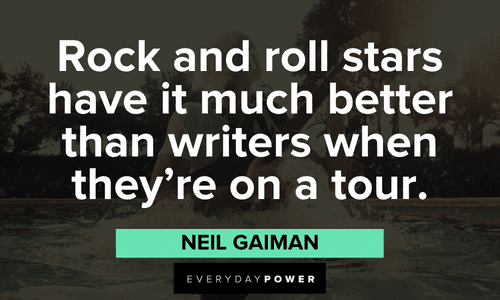 Rock & Roll quotes about its impact
31. "I like to rock and roll, but I'm a mushy guy, too. I want to be the guy that all the girls love and all the guys want to hang out with."- Kenny Chesney
32. "I mean, there's times to rock and roll, and I love that too. But I think my first love is acoustic music."- Graham Nash
33. "I've always played every amp I've ever had full up, because rock and roll is supposed to be played loud. Also, that's how you get your sustain."- Ritchie Blackmore
34. "The whole world loves American movies, blue jeans, jazz and rock and roll. It is probably a better way to get to know our country than by what politicians or airline commercials represent."- Billy Joel
35. "My mom passed away a day before high school started, and her dream was for me to be a full rock and roll guy, and play drums in a band."- Travis Barker
36. "I'm not terribly happy about rock and roll. Certain rock music is uninspiring, numbing; it makes you feel like an idiot."- Manuel Puig
37. "And, as soon as I could put together the, you know, three or four notes that made up, like, sort of a rock and roll lick, you know, like a Chuck Berry kind of thing, I was off and running. Just completely taken over." – Slash
38. "In my opinion, hip-hop has a lot to do with rock and roll, because at one point it was considered an alternative – edgy, independent. Hip-hop is pots and pans the way that punk is garage. You make something out of nothing."- CeeLo Green
39. "The old-timers schooled me good. They brainwashed me to respect music, whether we were playing rockabilly or blues or rock and roll."- Dr. John
40. "I look back on my life, comin' out of Macon, Georgia – I never thought I'd be a superstar, a living legend. I never heard of no rock and roll in my life."- Little Richard
41. "Rock and roll music – the music of freedom frightens people and unleashes all manner of conservative defense mechanisms."- Salman Rushdie
Celebrating Rock & Roll Quotes
42. "I take my job as a rock and roll sax player very seriously. To do it the way that I must do it, I must be in good condition. The better shape you're in, the harder you can rock."- Clarence Clemons
43. "I love classic rock, rock and roll, that's the top-notch. I love soul – bluesy music as well."-Haley Reinhart
44. "There's a hell of a lot of freedom in this rock and roll circus… it's where all the freaks go – it's the environment for me."- Brian Molko
45. "Every 15, 20, 25 years, a new rock and roll record needs to come out and a new rock and roll band needs to come out."- Steven Adler
46. "What are the symbols of American strength, wealth, power and modernity? Certainly not jazz and rock and roll, not chewing-gum or hamburgers, Broadway or Hollywood. It's their skyscrapers. Their Pentagon. Their science. Their technology."- Oriana Fallaci
47. "I have a saying, which is, 'Crazy is good for business.' I think rock and roll really is about being a bit crazy."- Billy Corgan
48. "The whole idea of rock and roll lifestyle is a cartoon. It's a caricature. And at times, it's made up of people emulating others; a few who actually live that lifestyle and many who claim to live that lifestyle."- Paul Stanley
49. "When the fearsome foursome of rock music, Chuck Berry, Bo Diddley, Little Richard, and Jerry Lee Lewis, decided to show up in Toronto for a rock and roll festival, I knew we had to go there to try to get them all on film."- D. A. Pennebaker
50. "The Ramones are an original rock and roll group of 1975, and their songs are brief, to the point, and every one a potential hit single."- Tommy Ramone
Fancy Rock and Roll Quotes For Music Lovers
51. "Rock and roll is a nuclear blast of reality in a mundane world where no one is allowed to be magnificent." — Kim Fowley
52. "Rock'n'roll will never go away completely because it's so fundamentally attractive." — Alex Turner
53. "Rock and roll is here to stay." — Neil Young
54. "Rock n' roll is a poison put to sound." — Pablo Casals
55. "Rock & roll is like a painting. Can great paintings still be done? It depends on who holds the brush." — Patti Smith
56. "I have Rock 'n' Roll pumping through my veins." — Kesha
57. "If you think you are too old to rock 'n roll, then you are." — Lemmy Kilmister
58. "Rock'n'roll starts between the legs and goes through the heart, then to the head. As long as it does those three things, it's a great rock song." — John Mellencamp
59. "Rock and roll has probably given more than it's taken." — Charlie Watts
60. "Rock 'n' Roll might not solve your problems, but it does let you dance all over them." — Pete Townshend
Rock and Roll Quotes For Fun Times
61. "If you really want to annoy me, ask me when I'm going to retire from rock n' roll." — Bruce Dickinson
62. "In pop music, you say, 'You can do what you want to me.' Rock 'n' roll says, 'I'm gonna do what I want to you.'" — Joan Jett
63. "I'm not much of a political person and even if I was, look, Rock 'n' Roll is supposed to be fun and sexy and a little bit dangerous." — Lita Ford
64. "Rock n' roll unchained a nation and revolutionized radio and the record industry, not to mention the motion picture business." — Henry Rollins
65. "The reason kids like rock 'n roll is their parents don't." — Mitch Miller
66. "I think a lot of people came into rock n' roll to try to change the world. I came into rock n' roll to make music." — Steve Winwood
67. "Anyone who tells you they got into rock'n'roll for reasons other than girls, fame and money is full of s***." — Gene Simmons
68. "I'm very fit on tour. I try to eat well, try to sleep. But it's still rock n' roll." — Rufus Wainwright
69. "A rock'n'roll band needs to be able to get under people's skin. You should be able to clear the room at the drop of a hat." — Paul Westerberg
70. "Rock 'n' roll will never die. There'll always be some arrogant little brat who wants to make music with a guitar." — Dave Edmunds
Rock And Roll Quotes To Uplift Your Enthusiasm
71. "I'm the greatest rock and roll drummer on the planet and you suck." — Tre Cool
72. "Rock and roll keeps you in a constant state of juvenile delinquency." — Eddie Spaghetti
73. "From this moment on I'd dedicate my life to rock and roll and take as many drugs as possible. What could possibly go wrong?" ― Craig Ferguson
74. "We are Motörhead. And we play rock and roll." ― Lemmy Kilmister
75. "For me rock and roll is about the freedom to express yourself very loudly." — BOB GRUEN
76. "If I hadn't heard rock and roll on the radio, I would have had no idea there was life on this planet." — Lou Reed
77. "You see, rock and roll isn't a career or hobby – it's a life force. It's something very essential." — The Edge
78. "I soaked my soul in Rock and Roll" ― Stuart Blythe
79. "Rock and roll is not one music but many." — Robert Palmer
80. "Rock and roll music, if you like it, if you feel it, you can't help but move to it. That's what happens to me. I can't help it." — Elvis Presley
Thought Provoking Rock and Roll Quotes
81. "One who sings with his tongue on fire, gargles in the rat race choir." ― Bob Dylan
82. "Raise your hands in the air, pump your fists, and solemnly swear to rock the truth, the whole truth, and nothing but the truth." ― Kool Moe Dee
83. "I have never been accepted. I'll never make the Rock and Roll Hall of Fame. They're never going to let me in." ― Nancy Sinatra
84. "Out stretched hands and one night stands, still I can't find love." ― Kid Rock
85. "Over to the jukebox I staggered for a love song to scatter my body before her." ― Kim Mitchell
86. "Strumming my pain with his fingers, singing my life with his words, killing me softly with his song." ― Roberta Flack
87. "There're songs to make you smile, there're songs to make you sad. But with a happy song to sing it never seems as bad." ― Stevie Wonder
88. "There was rock and roll across the dial, when I think of her it makes me smile." ― Tom Petty
89. "The big corporations and the big companies turned musicians into factory workers on an assembly line." ― Ray Davies
90. "I started recording the album four years ago. It was very different then – totally rock and roll." ― Paris Hilton
Rock And Roll Quotes To Help You Understand The American Music
91. "Rock music was never written for or performed for conservative tastes." ― Frank Zappa
92. "Until I realized that rock music was my connection to the rest of the human race, I felt like I was dying, for some reason, and I didn't know why." ― Bruce Springsteen
93. "Music is the only thing in this world, with the exception of sneezing and looking at the sunset, that takes you to a place that's above the mundane." ― Stephan Jenkins
94. "Rock and roll doesn't necessarily mean a band. It's that question of trying to be immortal." ― Malcolm Mclaren
95. "A lot of people seem to think I started this business. But rock 'n' roll was here a long time before I came along. Nobody can sing that kind of music like colored people. Let's face it: I can't sing like Fats Domino can. I know that." ― Elvis Presley
96. "We're more popular than Jesus now; I don't know which will go first, rock 'n' roll or Christianity." ― John Lennon
97. "Rock 'n roll is really swing with a modern name. It began on the levees and plantations, took in folk songs, and features blues and rhythm. It's the rhythm that gets to the kids – they're starved of music they can dance to, after all those years of crooners." ― Alan Freed
98. "No change in musical style will survive unless it is accompanied by a change in clothing style. Rock is to dress up to." ― Frank Zappa
99. "Through Kurt I saw the beauty of minimalism and the importance of music that's stripped down." ― Dave Grohl
100. "The music simply drifts away into the stratosphere of formal dialectic, beyond our social concerns." ― Dave Hickey

Which of these Rock & Roll quotes is your favorite?
In a 2015 piece chronicling the history of rock and roll in The NewYorker noted that "Rock and roll are usually explained as rhythm-and-blues music—that is, music performed by black artists for black listeners—repurposed by mostly white artists for a mostly white audience."
The article provides an in-depth history of the racial bias in the Billboard charting system and describes in detail how the Billboard system and the radio networks were predicated on segregation.
In spite of these obstacles, many African American artists pioneered taking the blues sound and transforming it into what we know as rock.
Little Richard described the process as "The blues had an illegitimate baby and we named it rock 'n' roll."
Later on, Hall of Fame artists such as Jimmy Hendrix and Prince would carry on the tradition.
Do you have a favorite rock and roll quote?
Let us know in the comments.