94 Eminem Quotes and Lyrics about Success and Life
Looking for inspirational Eminem quotes?
In this post, we've gathered some great quotes and lyrics from the rapper for you.
Enjoy!
Marshall Bruce Mathers III, better known by his stage name Eminem, is an American rapper, songwriter, music producer, record executive, and actor.
He is among the world's best selling artists of all time with over 47 million albums and 220 million records sold.
Born on October 17, 1972, in St. Joseph, Missouri, Eminem developed a passion for rapping at a young age and released his debut album, Infinite, in 1996.
Soon after, he signed with Dr. Dre's Aftermath Entertainment and released several successful albums.
To date, Eminem has released 9 studio albums, which have all been massive hits, making him one of the biggest sensations in the rap industry.
As one of the greatest hip-hop artists of all time, Eminem has clearly managed to tap into his Everyday Power to rise to the top of his game.
In that regard, here are some memorable Eminem quotes to inspire you to become the best in whatever you pursue.
Don't forget to also check out our collection of the best quotes by Nas.
Check out our most popular quote article, a list of short inspirational quotes for daily inspiration.
Check out our entire collection of motivational quotes here.
Eminem quotes and lyrics about success and life
1. "Throughout my career, I fed off the fuel of people not being able to understand me." – Eminem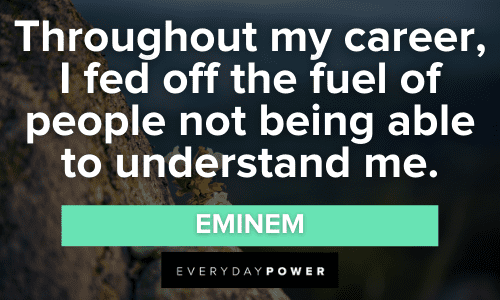 2. "Behind every successful person lies a pack of haters" ― Eminem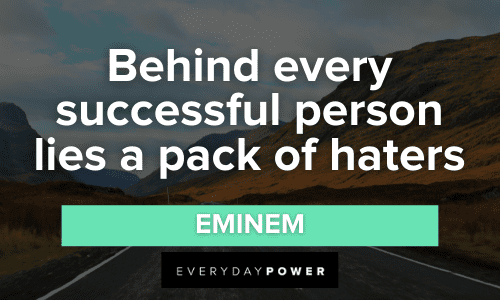 You will also enjoy our article on rick ross quotes.
3. "It feels good to have your work respected again." – Eminem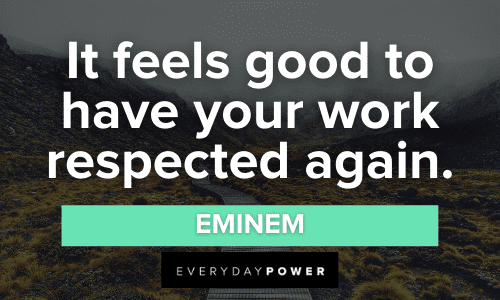 4. "Fame hit me like a ton of bricks." – Eminem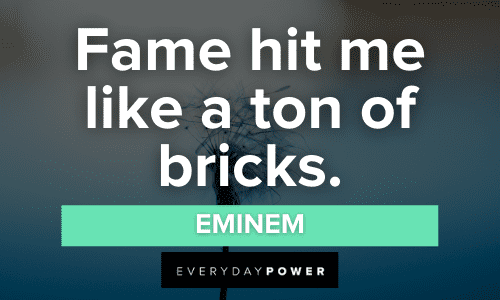 5. "The truth is you don't know what is going to happen tomorrow. Life is a crazy ride, and nothing is guaranteed."- Eminem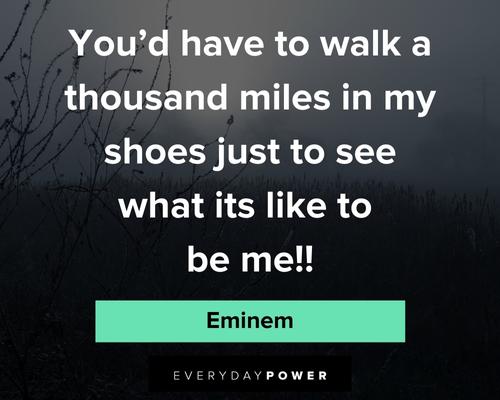 6. "You'd have to walk a thousand miles in my shoes just to see what its like to be me!!" ― Eminem
7. "But music is a reflection of self, we just explain it, and then we get our
checks in the mail." ― Eminem
You will also enjoy our article on kevin gates quotes and lyrics.
8. "Before I was famous, when I was just working in Gilbert's Lodge, everything was moving in slow motion." ― Eminem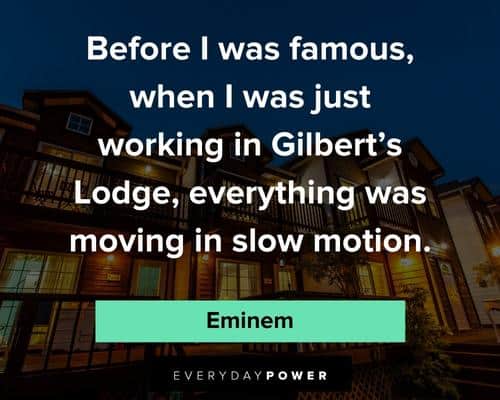 9. "You don't get another chance, life is no Nintendo game." – Eminem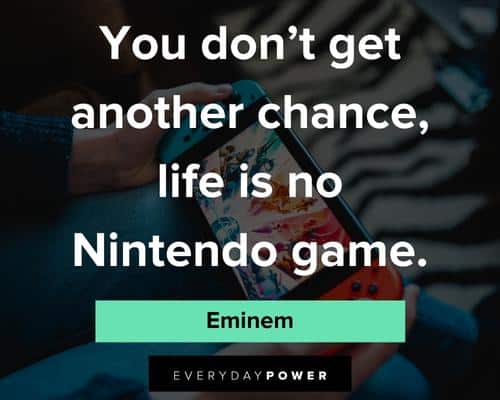 10. "You can make something of your life. It just depends on your drive." – Eminem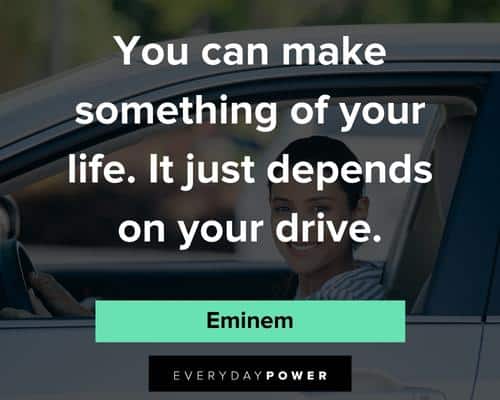 11. "A normal life is boring." – Eminem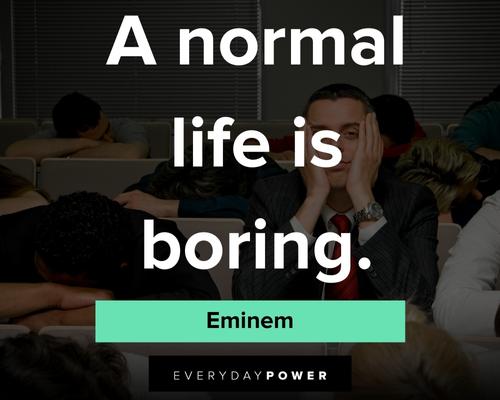 You will also enjoy our article on tyler the creator quotes.
12. "Success is my only option, failure's not." – Eminem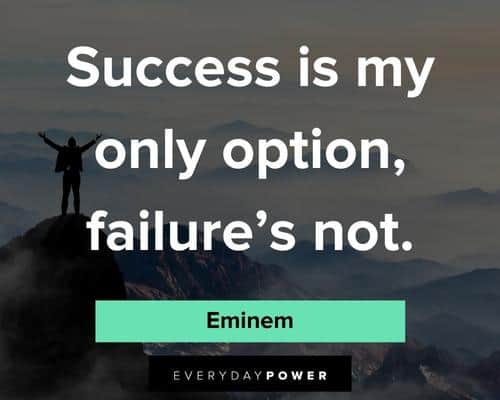 Eminem quotes about music and life
13. "Sometimes I feel like rap music is almost the key to stopping racism." – Eminem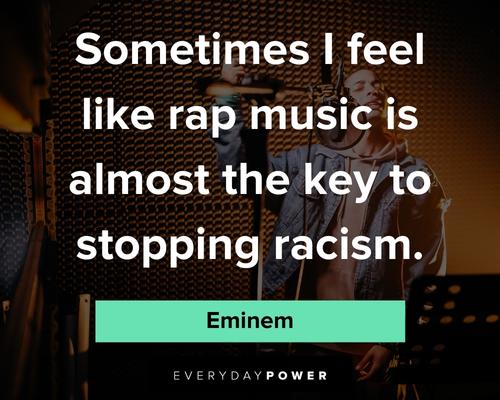 You will also enjoy our article on Lil Wayne quotes.
14. "Personally, I just think rap music is the best thing out there, period. If you look at my deck in my car radio, you're always going to find a hip-hop tape; that's all I buy, that's all I live, that's all I listen to, that's all I love." ― Eminem
15. "If people take anything from my music, it should be motivation to know that anything is possible as long as you keep working at it and don't back down." – Eminem
16. "The emotions in a song – the anger, aggression – have got to be legitimate." – Eminem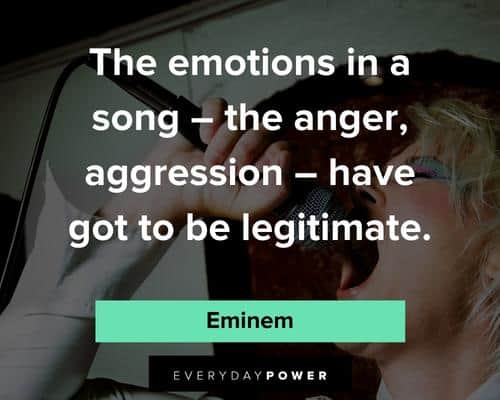 If you're enjoying these quotes, you'll love our collection of song quotes from some of the biggest hits.
17. "I think my first album opened a lot of doors for me to push the freedom of speech to the limit." – Eminem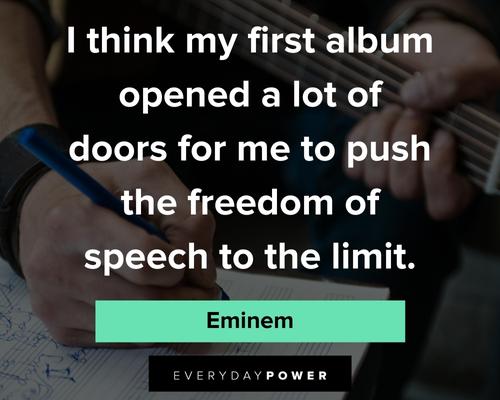 18. "You better lose yourself in the music. The moment, you own it, you better never let it go. You only get one shot, do not miss your chance to blow. This opportunity comes once in a lifetime, yo." – Eminem
19. "Dealing with backstabbers, there was one thing I learned. They're only powerful when you got your back turned." – Eminem
20. "If there's not drama and negativity in my life, all my songs will be really wack and boring or something." – Eminem
21. "I started learning how to not be so angry about things, learning how to count my f—ing blessings instead. By doing that, I've become a happier person, instead of all this self-loathing I was doing for a while." – Eminem
Don't forget to also read these motivational 50 Cent quotes on success, creativity, and more.
Eminem quotes to inspire confidence
22. "My thing is this; if I'm sick enough to think it, then I'm sick enough to say it." – Eminem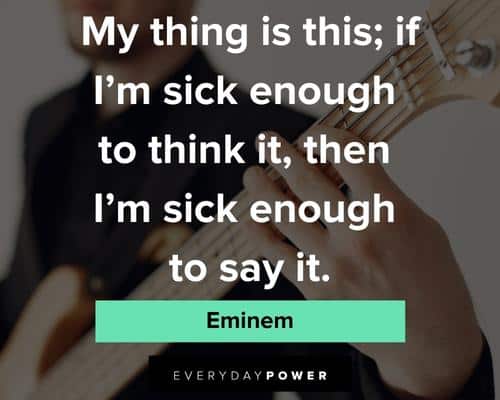 23. "I am who I am and I say what I think. I'm not putting a face on for the record." – Eminem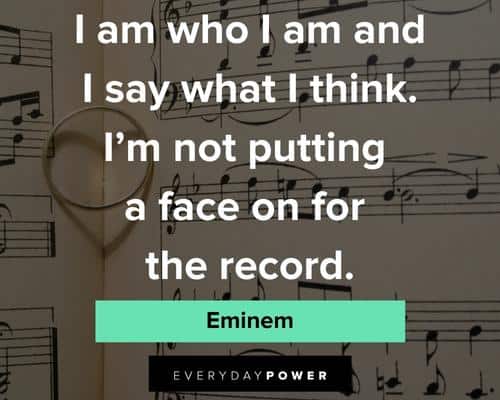 24. "I was poor white trash, no glitter, no glamour, but I'm not ashamed of anything." – Eminem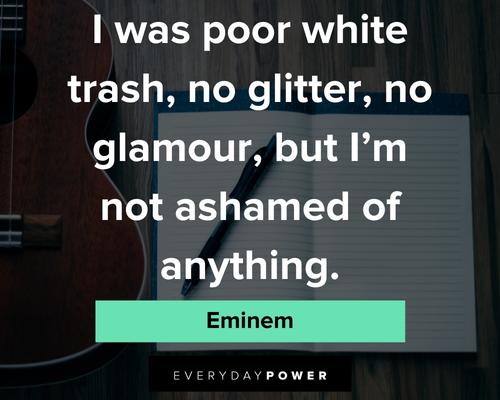 25. "Look, if you had one shot, or one opportunity. To seize everything you ever wanted in one moment. Would you capture it or just let it slip?" ― Eminem
26. "Everybody has goals, aspirations or whatever, and everybody has been at a point in their life where nobody believed in them." – Eminem
27. "Be proud of who you are." – Eminem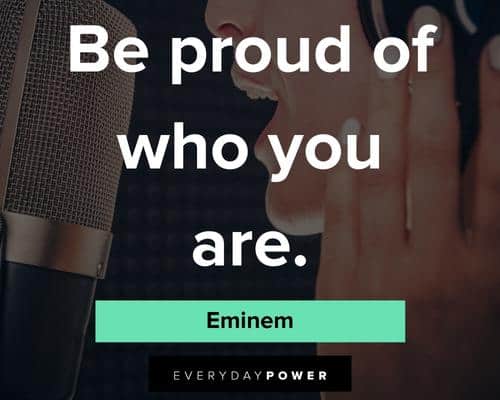 28. "We'll walk this road together, through the storm. Whatever weather, cold or warm." – Eminem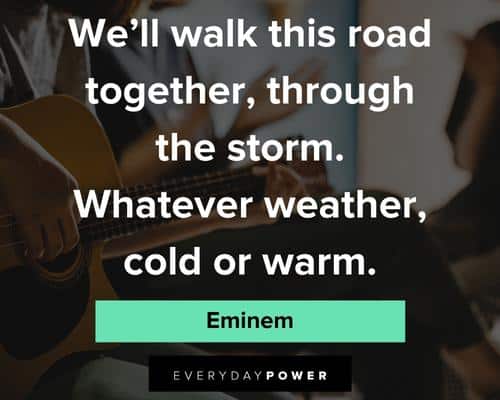 29. "If you have enemies, good that means you stood up for something." – Eminem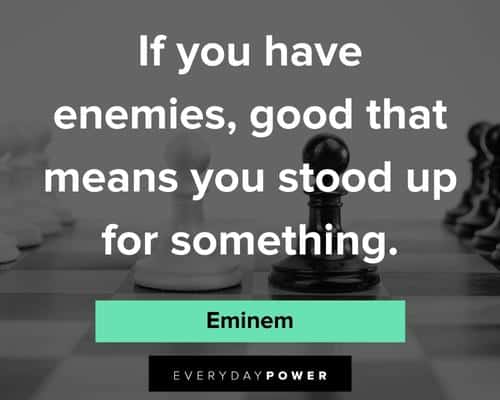 30. "I'm just a little bit sicker than the average individual I think." – Eminem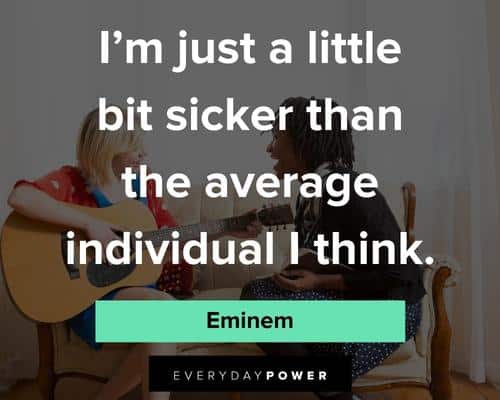 31. "That's why we seize the moment try to freeze it and own it, squeeze it and hold it." – Eminem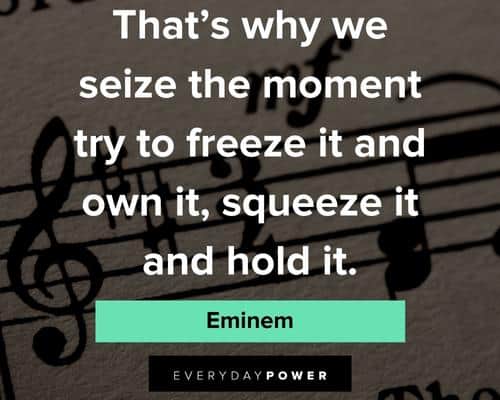 32. "Why be a king, when you can be a god?" – Eminem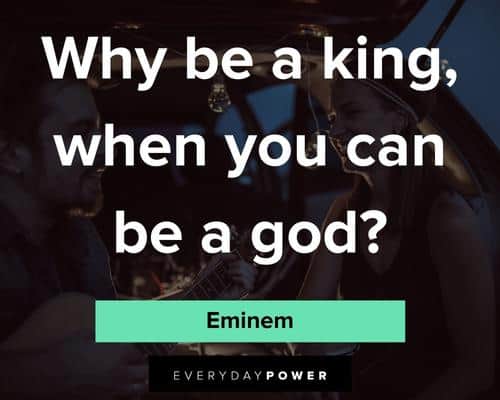 Eminem quotes and lyrics about love, family and relationships
33. "Love is just a word, but you bring it definition." ― Eminem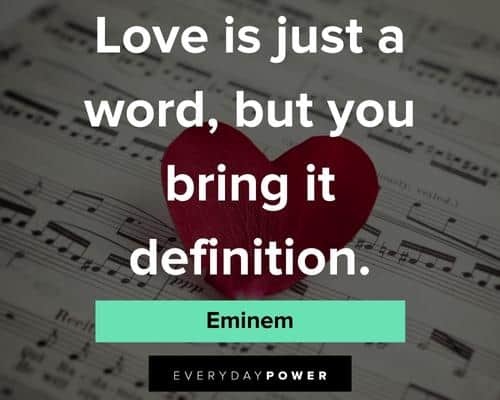 34. "Trust is hard to come by. That's why my circle is small and tight. I'm kind of funny about making new friends." – Eminem
35. "I say what I want to say and do what I want to do. There's no in between. People will either love you for it or hate you for it." – Eminem
36. "Ultimately, who you choose to be in a relationship with and what you do in your bedroom is your business." – Eminem
37. "Why is it so hard for people to believe that white people are poor?! I wouldn't say I lived in a ghetto; I'd say I lived in the 'hood. The same friends I had back then are the same people on tour with me now." – Eminem
38. "Somewhere deep down there's a decent man in me, he just can't be found." – Eminem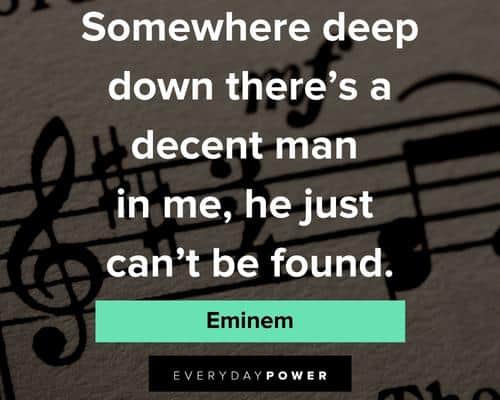 39. "Don't do drugs, don't have unprotected sex, don't be violent. Leave that to me." ― Eminem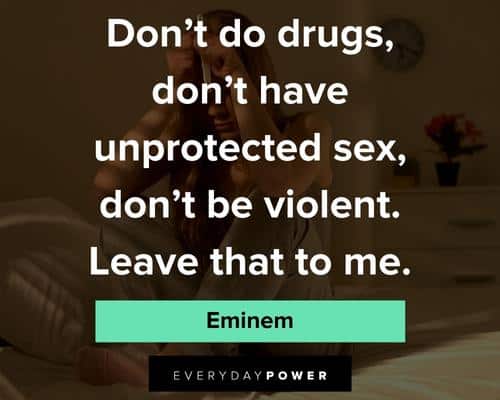 40. "It was my decision to get clean, I did it for me. Admittedly I probably did it subliminally for you." – Eminem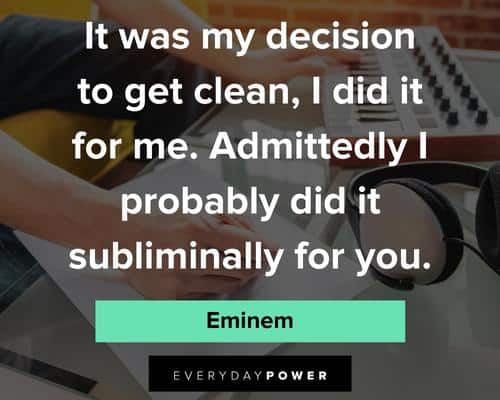 Memorable Eminem quotes and lyrics
41. "People can try to reinvent themselves. I don't think you can really change who you are, though, because who you are is pretty much where you came from and what you've done up to now." – Eminem
42. "In my mind I'ma fighter, my heart's a lighter, my soul is the fluid. My flow sparks it right up." – Eminem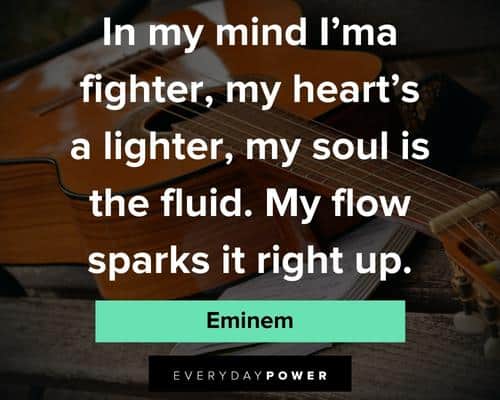 43. "Hip-hop is ever changing but you'll always have the pack. And you'll always have those people who are separated from the pack." – Eminem
44. "We sing for these kids who don't have a thing." – Eminem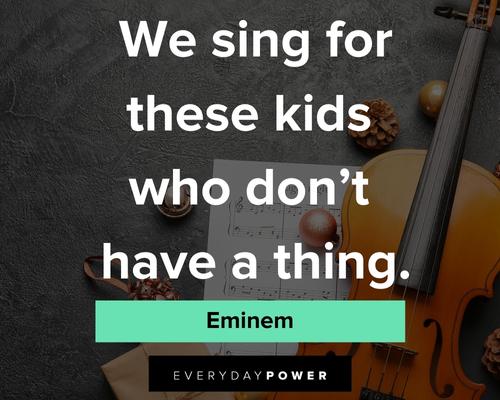 45. "I don't think I've ever read poetry, ever. I'm not really book-smart." – Eminem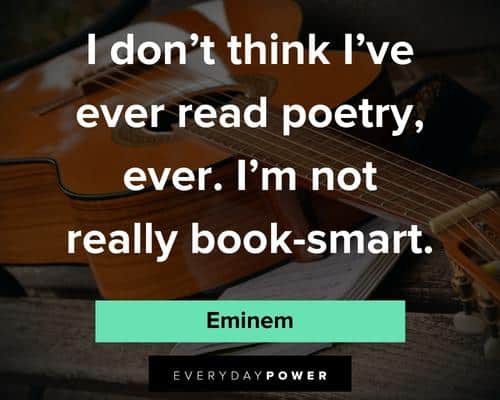 46. "Honestly, I'd love to be remembered as one of the best to ever pick up a mic, but if I'm doing my part to lessen some racial tension I feel good about what I'm doing." – Eminem
47. "I need to keep working on myself for a while." – Eminem
48. "I was a smart kid, but I hated school." – Eminem
49. "I didn't have nothin' going for me… school, home… until I found something I loved, which was music, and that changed everything." – Eminem
50. "There was a while when I was feeling like, 'Damn, if I'd just been born black, I would not have to go through all this'." – Eminem
More Eminem quotes and lyrics
51. "When I say or do something, I do it. I don't give a damn what you think. I'm doing this for me." – Eminem
52. "Don't you wanna grow up to be just like me?" — Eminem
53. "Nobody likes to fail. I want to succeed in everything I do, which isn't much. But the things that I'm really passionate about, if I fail at those, if I'm not successful, what do I have?" – Eminem
54. "I try to treat all the money I'm making like it's the last time I'm going to make it." — Eminem
55. "Laughing all the way to the bank, I spray flames. They cannot tame or placate the monster." ― Eminem
56. "And I am, whatever you say I am. If I wasn't, then why would I say I am?" — Eminem
57. "You gotta find that inner strength and just pull that s*** out of you. And get that motivation to not give up and not be a quitter, no matter how bad you wanna just fall on your face and collapse." – Eminem
58. "It sometimes feels like a strange movie, you know, it's all so weird that sometimes I wonder if it is really happening." — Eminem
59. "Nobody knows me I'm cold, walk down this road all alone. It's no one's fault but my own, it's the path I've chosen to go." – Eminem
60. "I'm standing up, I'mma face my demons, I'm manning up, I'mma hold my ground." — Eminem
You might also like these insightful Nipsey Hussle quotes and lyrics.
Other Eminem quotes and lyrics
61. "They can trigger me. But they'll never figure me out." – Eminem
62. "Don't ever try to judge me dude. You don't know what the fuck I've been through." – Eminem
63. "I can't tell you what it really is, I can only tell you what it feels like." – Eminem
64. "Knowledge is power, but powerless if you've got it and you do not acknowledge it." – Eminem
65. "I act like shit don't phase me. Inside it drives me crazy, my insecurities could eat me alive." – Eminem
Popular Eminem quotes
66. "And then along comes Rakim, and he out does that. And then along comes G Rap and he starts out doing everyone else." – Eminem
67. Redman was, to me, one of the most consistent artists, still rapping to this day is one of the most consistently dope rappers." – Eminem
68.  I know a lot of my friends collected vinyl back in the day, but me, I've been… I'm a tape person." – Eminem
69. "[Lil] Wayne, [J.] Cole, Kendrick [Lamar], Joyner Lucas. They rap to be the best rapper, and I feel like when you push yourself like that, that's what I feel like inspires greatness." – Eminem
70. "I rap to be the best rapper, but I'm not the only rapper who raps to be the best rapper." – Eminem
71. "I just can't sit back and wallow in my own sorrow, but I know one fact: I'll be one tough act to follow." ― Eminem
72. "I know I've been around for a minute, but I don't feel like honestly, in my heart of hearts, I don't feel like anything I did, anything I've done up to this point is more influential than they were to their era." – Eminem
73. "To me, I will never mean more than they meant to their era. And that, man, a lot of times people, when they ask me what my top favorite rappers are, I don't even know how to answer that, because there are so many rappers that have been so great and still are great. And by the way, I think Rakim probably is still great. I haven't heard anything he's working on lately, but I guarantee you he ain't lost that sh-t, because that kind of sh-t don't go away. It just doesn't." – Eminem
74. "But the list, man, sometimes you almost have to go by era. 2Pac. I feel like rappers like Rakim, [Kool] G Rap, [Big Daddy] Kane, Treach, Pharoahe Monch… when KRS-One would drop some new shit, it just outdid whatever was before that." – Eminem
75. "It's not going to give you all that, you know what I'm saying? So, for me, I always collected tapes." – Eminem
76. "A record is not going to give you the feel of having the tape, and it's not going to give you the information." – Eminem
Eminem Quotes About Wisdom and Insight from the Rap Legend
77. "I realized, 'Yo, I can't do anything in moderation. I don't know how." ― Eminem
78. "Nobody asks for life to deal us with these bullshit hands we're dealt. We've gotta take these cards ourselves and flip them; don't expect no help." ― Eminem
79. "The moment I used my adversity to my advantage, my career exploded." ― Eminem
80. "I have been a liar, been a thief, been a lover, been a cheat. All my sins need holy water, feel it washing over me." ― Eminem
81. "I'm friends with the monster that's under my bed." ― Eminem
82. "Everything you're scared to say, don't be afraid to say no more." ― Eminem
83. "You know, not to sound corny or nothin', but I felt like a fighter comin' up, man. I felt like, you know, I'm being attacked for this reason or that reason, and I gotta fight my way through this." ― Eminem
84. "Thanks cuz your hate is what gave me this strength." ― Eminem
85. "Sometimes you just gotta let shit go and say, 'To hell with it' and move on." ― Eminem
86. "There's no limit on how far I would go, no boundaries, no lengths." ― Eminem
Eminem's Quotes That Transcend Music
87. "Maybe one day we'll all wake up, and this will just be a dream." ― Eminem
88. "But music is reflection of self, we just explain it, and then we get our checks in the mail." ― Eminem
89. "There's no mountain I can't climb. There's no tower too high. No plan that I can't learn how to fly." ― Eminem
90. "It was ingrained in me that I wouldn't amount to a shitstain. I thought, no wonder I had to unlearn everything my brain was taught." ― Eminem
91. "It's a broke day, but everything is okay. I'm up all night, but everything is alright. It's a rough week, and I don't get enough sleep. It's a long year pretending I belong here." ― Eminem
92. "Maybe it's hatred I spew, maybe It's food for the spirit. Maybe it's beautiful music I made for you to just cherish." ― Eminem
93. "Don't let them say you ain't beautiful. They can all get fucked, just stay true to you." ― Eminem
94. "You can try and read my lyrics off of this paper before I lay 'em, But you won't take the sting out these words before I say 'em." ― Eminem
Which Eminem quotes are your favorite?
Eminem is regarded as one of the greatest hip-hop artists of all time.
Although he had a troubled childhood and was bullied in school, he rose to become a successful rapper.
His lyrics and quotes have inspired many people who initially felt like they had nothing much to live for.
Hopefully, these Eminem quotes have motivated you to be the best you can be.
Did you enjoy these Eminem quotes?
Which of the quotes was your favorite?
We would love to hear all about it in the comment section below.